CARRA APPRAISAL PROSPECT (P2320, Block 21/28a)
Carrick has signed a sale and purchase agreement (SPA) with Orcadian Energy plc regarding a sub-area of Orcadian's 100% P2320 Licence in Block 21/28a covering the Carra prospect.
In return for an option for 50% interest in the Licence sub-area, Carrick is purchasing new, re-processed seismic data relating to the Carra prospect, reinterpreting the data, and working up the Carra prospect to drill-ready status. Carrick will manage a joint farm-out of the prospect.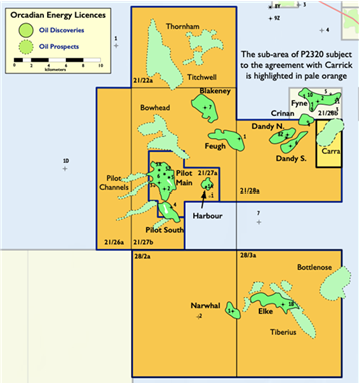 The Carra prospect lies to the East of the Crinan (well 21/28a-4) and Dandy (wells 21/28a-6&8) discoveries to the South of the Fyne field. The Carra prospect is contained in Tay and Cromarty sandstones which lie on trend with Guillemot West, and is a stratigraphic trap associated with a clear amplitude anomaly defined by 3D seismic. The Carra prospect has estimated P50 recoverable prospective resources of 30 mm bbls of medium gravity oil.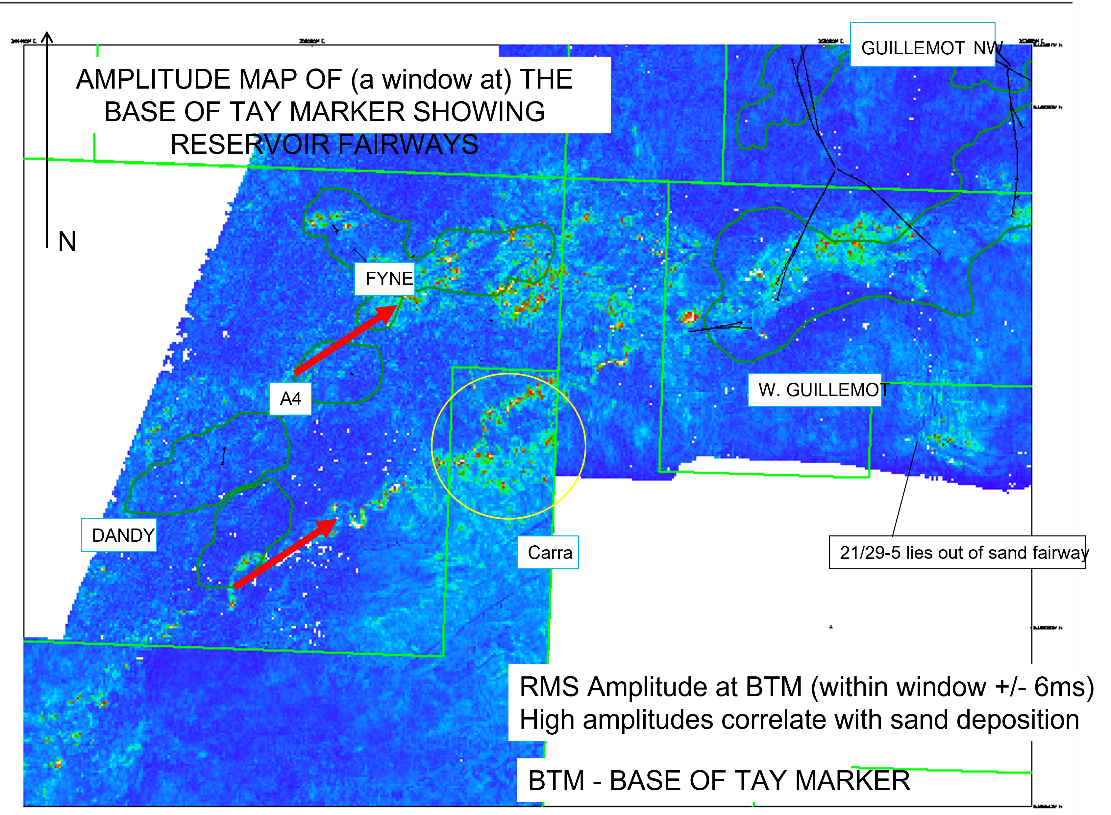 P2451, Block 21/28b: The FYNE FIELD Carried Interest

In Q1-2021, Carrick agreed the sale of its 50% operated interest in the P2451 Licence, Block 21/28b, to its 50% licence partner, Rapid Oil Production Ltd. Carrick retains a carried interest.
The Fyne Field is located in UKCS Block 21/28b, Central North Sea, approximately 100 miles east of Aberdeen and is in a mature area of oil and gas development characterised by production from numerous fields in Tertiary Eocene and Jurassic sands.
The Fyne Field (Fyne) is extensively appraised. Fyne was discovered by Mobil in 1987 by well 21/28a-2, which flowed on test at ≈3,600 b/d of 25°API oil from Eocene Tay formation sands. Further appraisal drilling was performed by Antrim Energy in 2008 in central Fyne (well 21/28a-9, 9z, 9y) and NW Fyne (well 21/28a-10, 10z) and in 2011 by Premier in east Fyne (well 21/28a-11). Well 21/28a-10z was test flowed at a maximum rate of ≈4,000 b/d of 22°API oil.
The licence also contains a portion of the undeveloped Crinan Field (well 21/28a-4) discovered in 1987.
Geological modelling and dynamic reservoir simulation have been performed for the Fyne and Crinan fields on Block 21/28b. The operator estimates P50 recoverable resources from Block 21/28b at approximately 24 mm barrels.
Development of the Fyne Field as a production hub could act as a key to help unlock additional undeveloped resources in adjacent blocks.
Fyne Development Plan
The operator currently plans a phased development for Fyne with phase 1 including the drilling of one production well and six months of production. Phase 1 production is expected to reach 20,000 barrels of oil per day.